2018 Cleveland West Park Heroes Run
Remembering
It's important to support and give back to our communities. Our customers, communities, friends, and family are the reason our business is here. There is an inherent need to give back, both on an individual level and corporate level.  We are supported and protected by civil services, including Police, Fire, and EMT/Paramedic services.  We don't necessarily see these services from day to day, but on our most difficult and tragic days these Heroes will be there without question to support and help whomever is in need.  They are the thin blue and red lines continually striving and sacrificing to keep us safe.
Race Day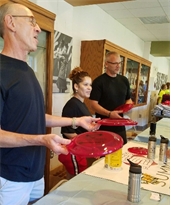 On Sunday, September 16, Summers Rubber employees and family members participated in the 2018 Heroes Run to support the local West Park Police & Firefighter Memorial.  Summers Rubber was one of the sponsors of this year's event.  We had 8 race participants between the 5-mile run and 2-mile walk/run and another 9 family members manned tables and water stations.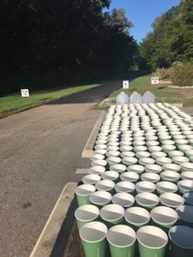 Six members of the group (mostly family under the age of 12!) manned the Mile 4 water station.   This station was located at the base of the infamous Hogsback Hill, a steep and continuous incline that each of the 5-mile runners had to face to get to the finish line that day.  Our group handed out water to racers as they prepared to "Tame the Hog."  Afterwards, they made sure to thoroughly clean up the area leaving the Metroparks as beautiful as ever.

Getting together for an event like this provides a team-building opportunity, promotes healthy living and well-being, and gives a sense of Purpose through giving back.  Thank you to all of the volunteers who helped make this such a memorable event.
No Greater Price to Pay
"There is no greater price to pay then to give one's life in the line of duty."

"THE WEST PARK CLEVELAND POLICE AND FIREFIGHTERS MEMORIAL WAS BUILT TO HONOR THE BRAVE OFFICERS WHO LIVED IN OR DIED IN THE LINE OF DUTY IN WEST PARK."
"The Memorial ensures the sacrifices made by these brave officers does not go unnoticed or unappreciated by those they sought to serve. It honors the families of these officers by providing a sacred space for introspection and remembrance. In conjunction with this Memorial, funds have been established for scholarships for surviving children of these officers and the ongoing maintenance of the memorial. The sculpture was underwritten through generous donations by family, friends, organizations and businesses."
To help support the West Park Cleveland Police & Firefighters Memorial, please visit their website at http://www.westparkmemorial.org/