Why Purge Welded Metal Hose Assemblies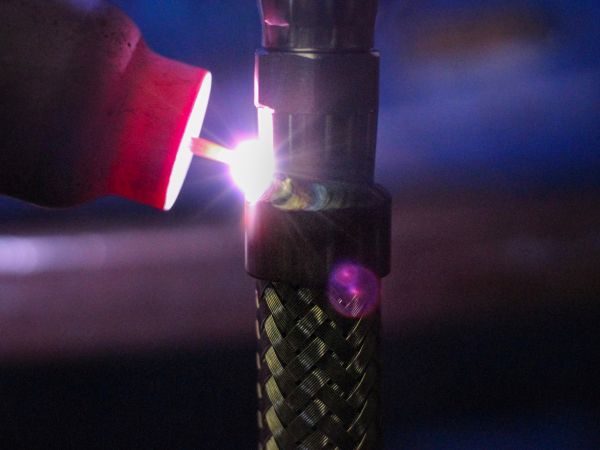 Metal hose is often deployed in specialized operations when rubber hose does not satisfy the requirements of a specified application.  Various metal alloys that are used can accommodate high temperature/high pressure applications, corrosive chemical applications, and vibratory applications, such as those used on compressors.  Failure during these types of applications can be costly to businesses and dangerous for workers.  For these reasons, having a clean weld will add to the reliability of the assembly. 
VIEW OUR ONLINE METAL HOSE SELECTION
When welding a metal hose assembly, a process known as Oxidation can occur, also called "sugaring."  Sugaring is an oxide formation created on the backside of a beaded pass, or weld.  These oxides form small, metallic particles that are left on the underside of a non-purged weld.  The particles can enter into a closed process system and contaminate the conveyed material.  Process Engineers understand the importance of maintaining the integrity of the material conveyed. Any type of contaminant, including these oxide form can diminish the quality of a product or lead to long-term damage to machinery.
Here are two causes which can commonly lead to unwanted oxidation on a weld.
The welding torch is too hot.  A welder can tell when a weld is too hot by the color of the metallic surface and/or the color of the flame from the weld torch.
The welding device is being held at an incorrect angle.  Experienced welders know the proper angle to use, but in some cases cannot be avoided, thus purging becomes a necessity.
How To Address Unwanted "Sugaring"
There are two ways to reduce or eliminate the potential for contamination from the effects of sugaring, purging with a secondary gas or reducing the weld amperage.
Reducing the weld amperage is often a simple adjustment of the gas flow by the welder to correct the problem. 
Purging is when a secondary gas is added to the backside of a weld and is used to remove oxygen from underneath the weld surface.
Purging is a process used to remove oxygen from the weld area which stops sugaring from occurring.  The most common gasses used for purging are argon and helium.  Adding these gases to the weld process does not actually halt sugaring from occurring, but rather it forces the contamination to mirror the outside of the weld.  If the contamination is not halted, the oxidation process causes a formation of small, metallic balls that may come off and enter into the user's flow system.  By preventing sugaring it will protect the process system from contamination by these metallic deposits.  It will also help achieve optimal mechanical strength and result in quality pipe welds.
Summers Rubber has the ability to purge any hose assembly upon request or when the final application requires it.  Purging is not necessary for every welded hose assembly.  Ask your hose distributor if "purging" is right for your next application.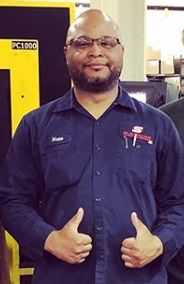 Nate Bell is the welder at Summers Rubber in Cleveland, OH and has been with the company for 20 years. Nate is an A.S.M.E. Section Nine certified welder who welds custom metal hoses and can even do boilers and pressure vessels.  He is certified in structural welding and all elements including blueprint. If there's metal to be joined, Nate can do it with Arc, Tig, Mig or oxy-fuel.
Summers Rubber Company fabricates custom metal hose to your specifications and welds in-house by our trained professionals. All metal hose assemblies are 100% tested. Available from ¼" to 12" in various alloys as well as un-braided, single braid and double braid covers. Check out our Metal Hose, PTFE. and Composite Hose selections.